External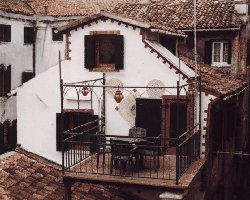 The apartment is located in the flat where Pope Paul II° lived and close to the churches where Vivaldi was baptized and composed his opus. You can visit the Doge's Palace and other important monuments.
Antonio Vivaldi, the Red Priest for the colour of his hair, son of a violinist of the Saint Marcus chapel in Veneice, born in the lagoon city in 1687. In 1703, strted to collaborate with the Pietà hospital. Fond of the improvisation, he made the concert more adaptable and imaginative. Moved to Vienna, where he died in 1741.
Pietro Barbo, known as Pope Paul II° (Pontiff from 1464 to 1471), in the period of his papacy decided that an university was found in Venice, declaring perpetual clerk the Saint John in Bragora parish priest, where he born. In 1470 he decided that the Jubileum had to be celebrated every 25 years.